Study Abroad
This page is the brochure for your selected program. You can view the provided information for this program on this page and click on the available buttons for additional options.
Florence, Italy
(Outgoing Program)
Featured
Term

Year

App Deadline

Decision Date

Start Date

End Date

Summer I

2015

02/01/2015 **

Rolling Admission

05/13/2015

06/27/2015

NOTE: Opening Tour will be May 13-17. Classes begin May 18th. Students must arrive on May 13 in Rome before 5PM.

Fall

2015

03/01/2015 **

Rolling Admission

09/07/2015

12/19/2015

NOTE: Students will be notified of their acceptance to the program on February 1st. Admission to the program will still be rolling - meaning first come, first served so please apply early.

Academic Year

2015-2016

03/01/2015 **

Rolling Admission

09/07/2015

04/22/2016

NOTE: Students will be notified of their acceptance to the program on February 1st. Admission to the program will still be rolling - meaning first come, first served so please apply early.

** Indicates rolling admission application process. Applicants will be notified of acceptance into this program upon review of the student's application and upon acceptance be able to complete post-decision materials prior to the term's application deadline.
| | | | |
| --- | --- | --- | --- |
| Area of Studies: | Art, Business, Business (Marketing), Business (Mgmt), Business (Operations Mgmt), Communication, Economics, Education, Education (Elementary), Education (Teacher), Engineering, English, Environmental Studies, Finance, History, International Studies, Italian, Philosophy, Psychology, Religious Studies | Minimum GPA Requirement: | 2.8 |
| Additional Features: | Internship, Volunteering | Program Type: | Sponsored |
| Language of Instruction: | English | Housing Options: | Apartment, Host Family |
About the Program
To the Gonzaga-in-Florence student, Italy is much more than a boot-shaped peninsula in the Mediterranean; it is an opportunity of a lifetime. In 1963, Gonzaga University, a Jesuit institution located in Spokane, Washington, developed a program in Florence, Italy, which was designed to immerse students in both Italian and European life and culture.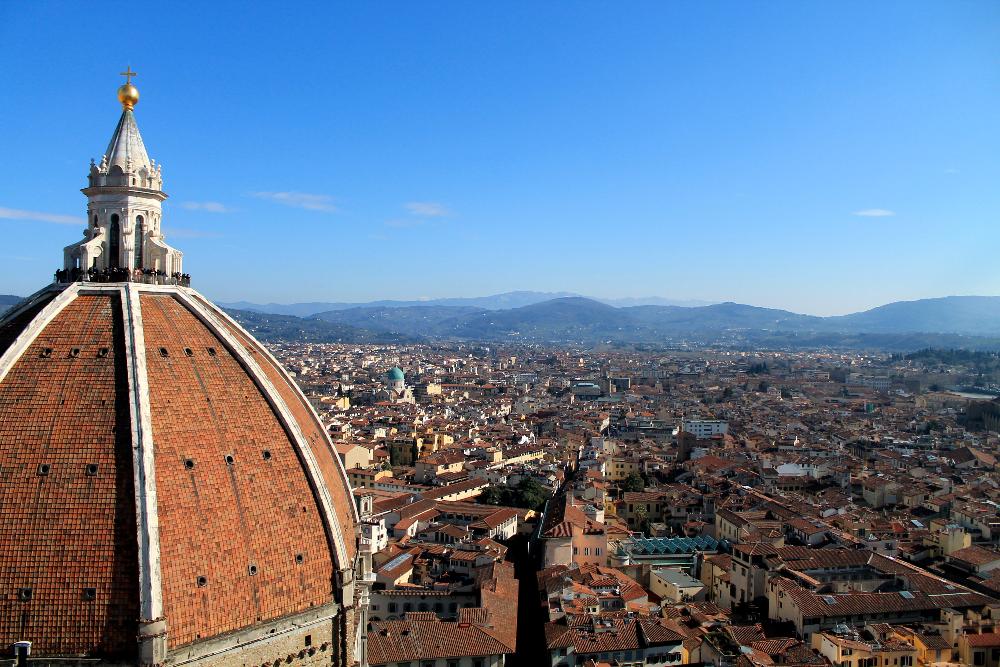 Gonzaga chose Florence because the city is central to the past of Italy and to European civilization itself. Capital of the region of Tuscany, Florence inherits the culture of the Etruscans, the mysterious forgotten people who were heirs to the glory of Greece long before there was a Rome. The city was founded by Roman veterans returning from the wars. More than any other city in Italy, Florence was the stalwart defender of civic liberty during the Renaissance. Her intensely loyal citizenry produced the people and ideas that served as models for a Europe in transition from the medieval to the modern. Florentine museums are brimming with paintings that transformed European taste in the fifteenth century. Her streets are lined with buildings that initiated modern architecture. It is intensely alive - a center of modern art, fashion, and refinement.
Florence is also central to Italy's present. It is three hours by train to the region of Lombardy, the humming center of Italy's economic miracle, and a stepping-off place for the ski slopes and lakes of the Alps. It is three hours to Venice, a city to which no photograph can do justice. It is two hours to Rome, capital of Italy and of the Church, where ancient, medieval and modern culture mingle on every street. Florence is four hours from Naples, Pompeii, and Mount Vesuvius, the southern region no traveler would want to miss.
Location
The Gonzaga-in-Florence Campus is located in the center of Florence, not far from the Duomo, and looks onto the Giardino dei Semplici, a sixteenth century garden created by the Medici family. It is a few steps from Fra Angelico's frescoes painted for the San Marco monastery and minutes from Michelangelo's David in the Galleria dell'Academia.
University
As private liberal arts college providing a Catholic liberal arts education, Gonzaga University is dedicated to the Jesuit, Catholic, humanistic ideals of educating the mind, body, and spirit to create men and women for others. Gonzaga constantly ranks as one of the best undergraduate universities in the United States, and Gonzaga-in-Florence holds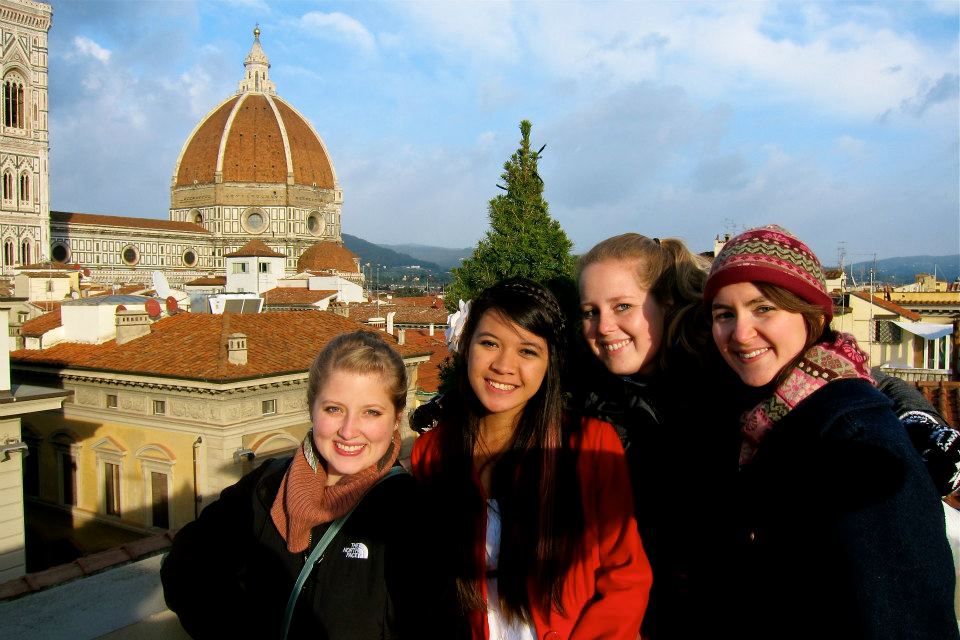 itself to the same standards. With a top 25 ranking undergraduate engineering program in the United States, Gonzaga-in-Florence offers the only engineering program that is taught in English in Florence.
Gonzaga-in-Florence's campus is equipped with wireless Internet and desktop computers. In addition, the center's Martin Library collection contains over ten thousand volumes. For research, students have access to Gonzaga University's Foley Library on the main Spokane campus through GIF's campus computers. A student lounge and small fitness room are also located on the lower level.
The Gonzaga-in-Florence campus is home to a full-time Student Life staff. Throughout the semester and full year, the staff coordinates a broad range of programs and provides an array of services to ensure that each student's experience in Florence is safe, successful, and full of rich opportunities. Options for engagement in outside-the-classroom learning include cooking classes, community service programs, Toastmasters, English-for-Pasta, entry in Italian athletic tournaments, yoga classes, internships, resume-development classes, Forza (GIF's leadership and ambassador group), and much more. You can attend the opera, have dinner with an Italian family in exchange for teaching their children English, or explore intriguing destinations on sponsored weekend trips. The Student Life staff also assists students experiencing culture shock, homesickness, medical issues, or emergencies.
Academics
Gonzaga-in-Florence offers several academic tracks to help students stay synchronized with core and major requirements while studying abroad. In addition to the tracks, a varitey of core requirements are offered. Visit the Course Offerings page to see the tentative and previous courses offered in Florence.

Courses are taught Monday - Thursday and all are taught in English (with exception of Italian language courses).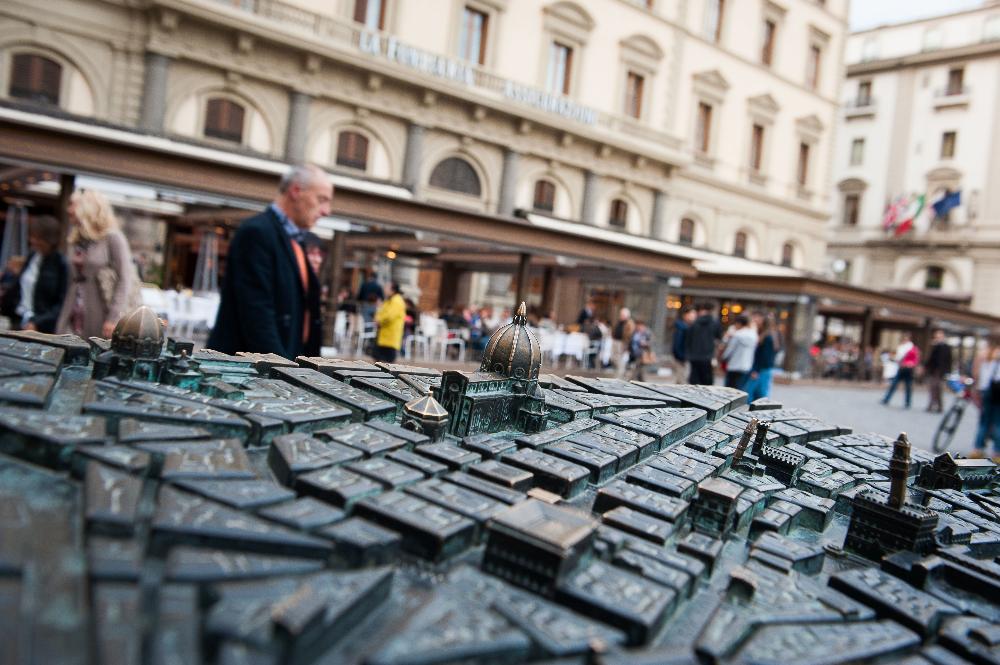 Italian Language Requirement
The program does require all participants (with the exception of Engineering track) to take Italian language. Students attending one semester must complete Italian 101. This requirement may be fulfilled prior to or during the time abroad. Students participating for a full academic year must take ITAL 101 and ITAL 102 by the end of their time in Florence.
Students who are studying in the summer have no language requirement.

Academic Tracks
A core of courses designed to meet certification curriculum requirements are offered in the spring semester by faculty with teacher education training and experience. This study abroad program provides students the opportunity to gain awareness and insight into global issues that will enhance their teaching as a result.

Academic / School of Education Advisors Teacher Education candidates are encouraged to begin discussions with their academic / School of Education advisors about GIF courses early in their academic career to help clarify how they relate to graduation requirements. Teacher Education candidates should take all nine (10) credits of TE courses offered
Gonzaga University is the only university in Florence to offer engineering classes in English. This program is unique and one of a kind. Engineering sophomores are encouraged to study abroad in Florence for their spring semester. Gonzaga-in-Florence courses are designed to fit into engineering students' existing curriculum and requirements. For information about classes check the Engineering and Applied Sciences website.
Gonzaga offers business courses both fall and spring terms. Classes vary slightly from term to term but are designed to fit into the business students existing curriculum and requirements. Its recommended students speak with academic advising counselors in the School of Business and review the Course offerings to determine the ideal semester to participate in the program.
Each term various courses in Philosophy, Religion, Fine Arts, and History are part of an integrated series of courses focus principally on the period that distinguished Florence as one of the major cultural centers of the world. It is interdisciplinary and academic year students are able to earn a certificate by completion of 4 IS or RT courses.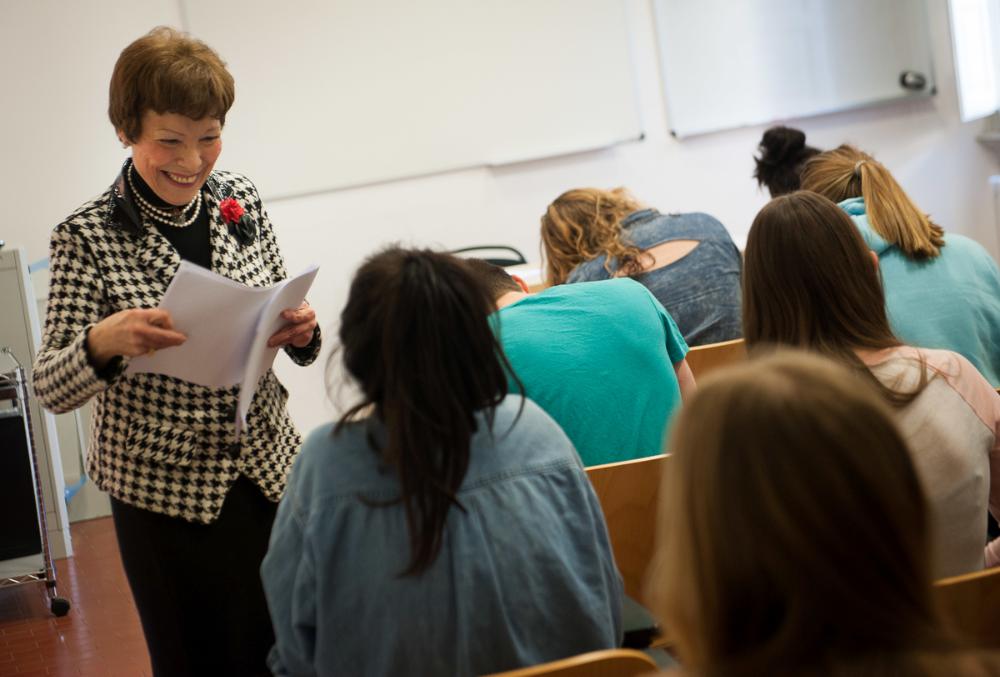 Housing and Meals
Homestay Program
Previous students have stated that the homestay option provides the most immersive experience and that if students are really looking to immerse themselves in Italy and want to truly learn Italian and the culture of Italy they should apply for the homestay option.
Living with a family while in Florence is the best way of having an authentic Italian experience; you truly get the best of both worlds. When living in a homestay you aren't disconnected from the rest of the Gonzaga-in-Florence community as most think. Rather, you have a perfect balance of spending time with friends in the program as well as becoming a member of a real Florentine family. This experience really allowed me to immerse myself into the Italian culture in a way that would not be possible without. At the end of the day, I wasn't coming back to my dorm room; I was coming back to my family who cared about how my day went. Although solely Italian was spoken in my homestay, there are other amazing families who speak both English and Italian. Many people, who had no Italian under their belts, chose the homestay option and just like me, became members of their Italian family and loved every moment of it. I would strongly encourage more people to consider doing homestay, if not for the year, at least for a semester. Not only will you eat the best Italian home cooked food you've ever had, you'll also learn many real life culture values that can only be learned by living under an Italian roof. It will be the most rewarding experience of your European adventure! - Shane E. Wing, GIF Alumna 2012-13
Pensioni:
While studying in Florence, most students live in Italian boarding hotels (pensioni) located close to the school which is in the heart of Florence. The pensioni are run by Italian staff that provides food, safe living conditions, and support.The pensioni are carefully screened and most have hosted GIF students for many years.
See the following links for a budget breakdown by term:
Fall | Spring | Summer | Academic Year
Additional Information
Internships:
Gonzaga-in-Florence, has a number of very unique opportunities to do internships. The internship opportunities in Florence are continuing to be expanded each semester. For students who have a higher level of Italian fluency there are more opportunists.
Gonzaga-in-Florence Internship Opportunities

Volunteer
:
A unique experience to Florence is the volunteer opportunity which can include the opportunity to give tours of local churches. Students can give a tour of a church one day a week for a couple of hours and they will be given a badge that gets them into all the Florentine churches for free. Students are able to see world class art and architectural pieces ranging from the tomb of Michelangelo to frescoes by Giotto, all the while meeting English speakers from all around the world (for most English is their second language).
Gonzaga-in-Florence Volunteer Opportunities

English for Pasta Program:
Visit an Italian family once a week to teach English to children between the ages of 6 and 15, then enjoy a delicious home-cooked dinner with them afterward. During the dinner, you'll get to practice your Italian in a fun family setting.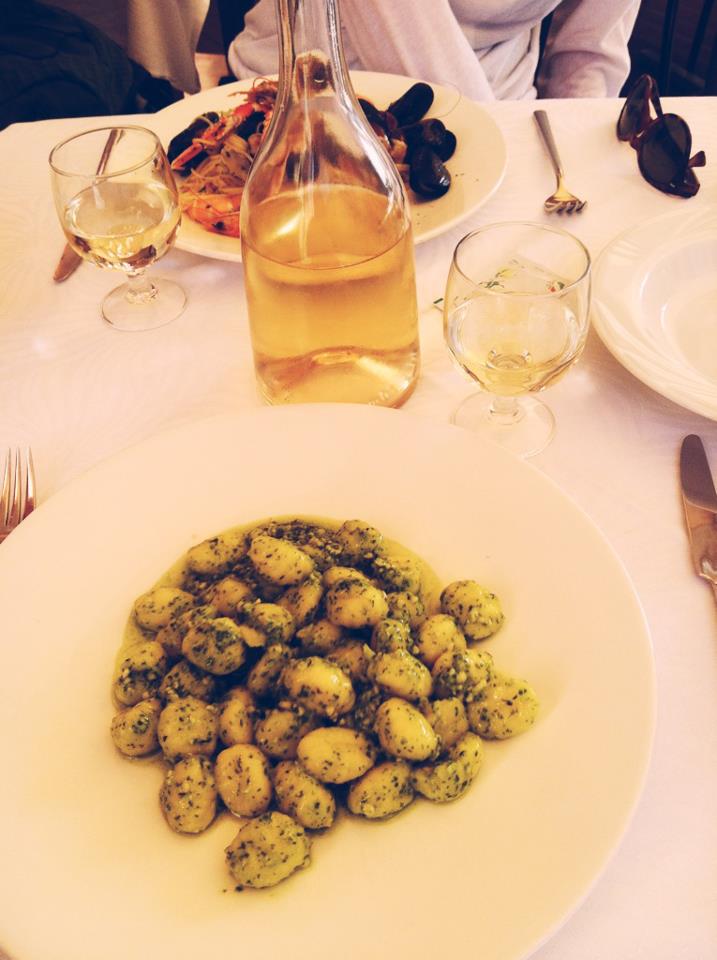 Visa and Passport
Students are required to have a valid passport. See the following information for applying for or renewing a passort: http://travel.state.gov/content/passports/english/passports.html

The study abroad office will assist and provide instruction in the acquisition of the participants that require a visa (semester & academic year). A student visa is a stamp in your passport that allows you to study in Italy for over 90 days. You can only apply for a study visa within 90 days of your departure. Your passport must be valid for three months after the end of your study abroad program. After acceptance into the program, participants will be provide a set of information and instructions about obtaining the required visa.

Summer students do not need a visa - a valid passport is the required document for entry.
Eligibility
The Gonzaga-in-Florence program is open to all undergraduate students who are enrolled at a U.S. College or university. See Factsheet for further acceptance requirements.