Study Abroad
This page is the brochure for your selected program. You can view the provided information for this program on this page and click on the available buttons for additional options.
Gonzaga-in-London: Literary London
London, United Kingdom
(Outgoing Program)
Featured
Program Terms:
Summer I

Budget Sheets
Summer I

There are currently no active application cycles for this program.
| | | | |
| --- | --- | --- | --- |
| Area of Studies: | English | Featured Programs by Department: | English |
| Minimum GPA Requirement: | 2.5 | Faculty Leader(s): | Easterling, Heather, Tredennick, Linda |
| Program Type: | Faculty-Led | Academic Level: | Junior, Senior, Sophomore |
| Language of Instruction: | English | Housing Options: | Dorm |
Program Overview
Spend five weeks learning and living in London, England. Study British literature and culture and fulfill Gonzaga elective or English major requirements. Literary London is open to all students, regardless of major.

We will explore London and beyond through course-related excursions. Class activities are typically scheduled Tuesday through Thursday. Enjoy four-day weekends when your own interests can guide your explorations.

Location
It's easy to see what would prompt Samuel Johnson to say, "When a man is tired of London, he is tired of life." Over two hundred years later, his statement may ring even more true (except, of course, that we think women should be included, too). London is one of the world's great capitals, a center of finance, fashion, education, and the arts. With a history that extends back two millennia, London nevertheless is as cutting edge as its new landmark, the Shard of Glass.
A cosmopolitan city since at least the seventeenth century, today it is truly multicultural, with over a third of its population originating from overseas. The last hundred years has seen the arrival of thousands from the Caribbean, the Indian subcontinent, the Mediterranean, the Far East, and Eastern Europe, all of whom play an integral part in defining a metropolis that is unmatched in its sheer diversity.

The history of Britain lives on in the city, and visitors can see it in such famous sites as St. Paul's Cathedral and the Tower of London. But by living in the city for several weeks, we also experience it by walking through gardens that used to be royal hunting grounds, standing with the groundlings in Shakespeare's Globe Theater or having a pint in an Eighteenth-Century pub. There are incomparable museums to show us England's and the world's history and art, but there is also a living city that is producing art – that is art – every minute of the day. Where else could one tour the Tate Modern, walk along the Thames and hear the buskers and watch sand sculptors, and end at Shakespeare's Globe to see some of the greatest living stage actors make four-hundred-year-old plays imminently relevant?

As a student in this program, you'll have the opportunity to get to know not just London's famous sites, but the city itself. You will be able to find your own London – the one that speaks your language in more than the obvious way. We promise, you'll never be bored.
Course and Schedules:
English 206/330: Shakespeare 1615-2015 (Dr. Tredennick)

Elizabethan London nurtured the emergence of a remarkably vibrant, profitable, and creatively luminous theater scene, of which Shakespeare was but one important contributor. Since then, Shakespeare has become so popular and prestigious that his name is nearly synonymous with both Englishness and the idea of individual literary genius. What were the literary, cultural, and political factors that allowed Shakespeare to produce the work he did, and what did it mean to be a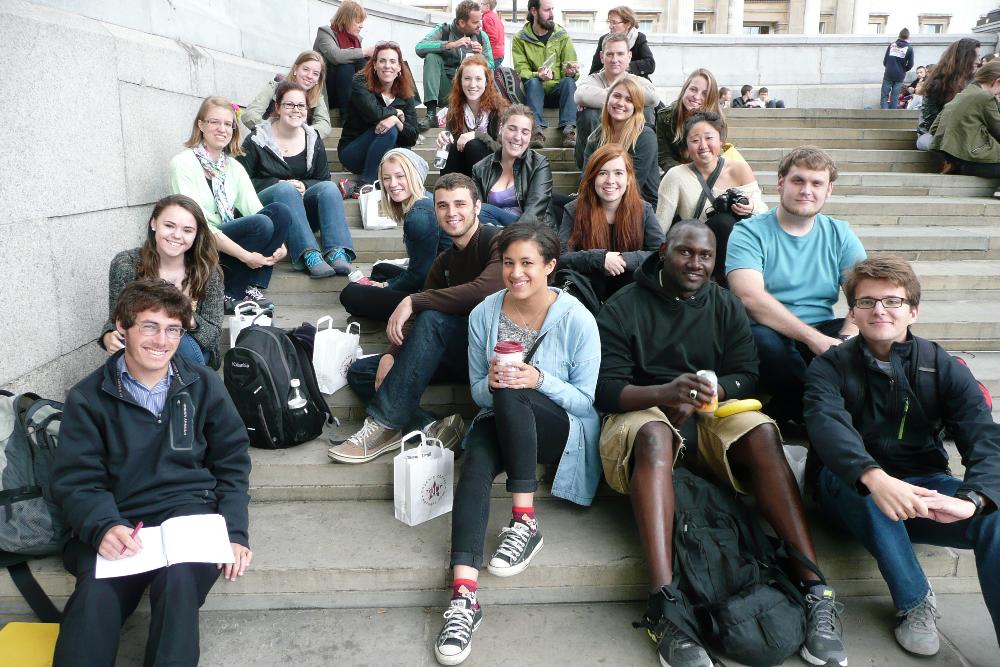 poet and a playwright in this age before intellectual property law and copyright protection? What forces have shaped our modern uses of "Shakespeare"? We will read a number of Shakespeare's plays and attend performances in London (dependent on London theater schedules), paying particular attention to issues of performance and the creative milieu of Elizabethan and contemporary theater.

ENGL 467: Special Topics: London as Text 1615-2015 (Dr. Easterling)

In his essay "Walking in the City," Michel De Certeau asserts that the city, like a work of literature, is a text worthy of study. A city, he argues, is defined by its systems, its subjects, and above all its space, and by reading these aspects of a city we come to understand it better. In this course we will follow De Certeau's challenge and study London itself as our primary text, using key essays in cultural studies as readings to help us situate ourselves as readers of London. Part of such situated reading will include examining a precise historical moment, c. 1615, when London as a city first became distinctly and popularly textual to itself. Using maps, panoramic views, a play, and some prose, we'll weave this early modern reading of London with our own first-hand, critical reading experience of this extraordinary city.

Housing and Meals:
Student will live in a residences hall while in London with WiFi and access to cooking and laundry facilities.
Cost:
Summer (click on the link)